2023 NER Regional Championship Weekend
---
Welcome to the 2023 NER Regionals General Information Page
March 31 - April 2, 2023
---
The schedule for the 2023 regionals has now been released ....
---
The Support Of The Following Sponsors Helps Make This Tournament Possible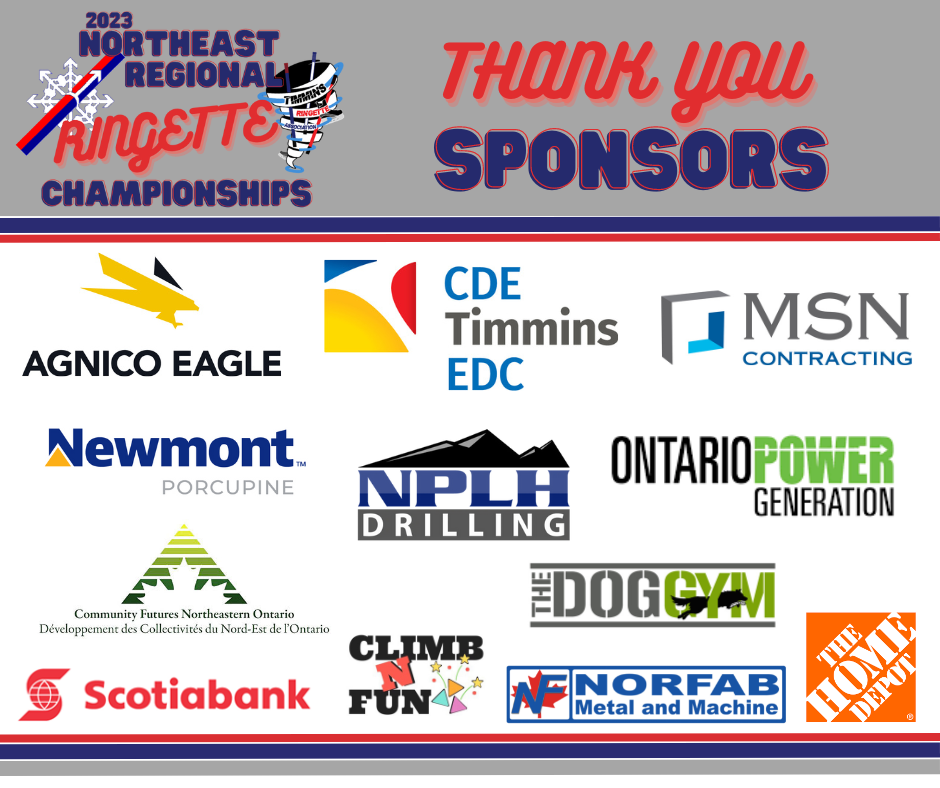 ---
Tournament schedule, standings, leaders and more can be found at: Ringette Ontario Games Portal
Divisions and Game Play
U12A division will be Female only
All B and FUN divisions will be Mixed
4 Game Guarantee for U10, U12, U14, U16/U19 (Mix), 18+ and U12A
1-day event - FUN1 / FUN2
Registration Fees
All with 4-game guarantee - $985
FUN1 / FUN2 - $400
Link to Register - http://timminsringette.rampregistrations.com/
Registration Deadline is February 17, 2023
Tournament Rules
Ringette Ontario's Competition Playing Rules will be in effect.
Scheduling
All U16/U19 and younger teams may be required to play as early as 10am Friday morning. Where possible, scheduling consideration will be given to out of town teams.
All U16/U19 and 18+ age groups must also be prepared to play late-evening games.
All teams should also be prepared to play 15 minutes prior to scheduled start times.
Accomodations
Blocks of rooms have been set aside at the following hotels:
Cedar Meadows - 877-207-6123
Super 8 Hotel - 705-302-0324
Comfort Inn - 705-264-9474
Travelodge - 705-910-0912
Arenas
Whitney Arena
Archie Dillon Sportsplex Arena
McIntyre Arena
Substitutions
Please ensure you contact your Regional Competitions Coordinator and complete the following forms in advance should your team require one or more Player Substitutions or Bench Staff Substitutions for this event. We kindly ask that all approved TRF adjustments are submitted to regionals@timminsringette.com 24 hours in advance of your first game.
Payment and Refund Information
E-transfer (preferred): Send your payment to payments@timminsringette.com ... Be sure to indicate your name, association and level in the notes section of the e-transfer. If you prefer another for payment please email secretary@timminsringette.com
Payment Deadline
February 24, 2023
Withdrawals, Refunds
The deadline to withdraw from the tournament and still receive a full refund will be payment deadline day (February 24, 2023). After this date, no refunds will be issued for a team that withdraws from the event.
NOTE: Per Ringette Ontario, once a Provincial level team, regardless of whether they intend to attend Championships or not has been assigned to a tournament, the tournament cannot deny acceptance to the team and the team cannot withdraw from the tournament without approval from the Provincial Competitions Committee in the event of extenuating circumstances.
Note: If Timmins Ringette is unable to host the event due to any Provincial restrictions (competition restrictions or facility lockdown), teams can expect a full refund
Vendors and Sponsors
For details about vendor and sponsorship opportunities please contact Sue Viel at regionals@timminsringette.com
Any questions, please don't hesitate to contact us at either president@timminsringette.com or regionals@timminsringette.com